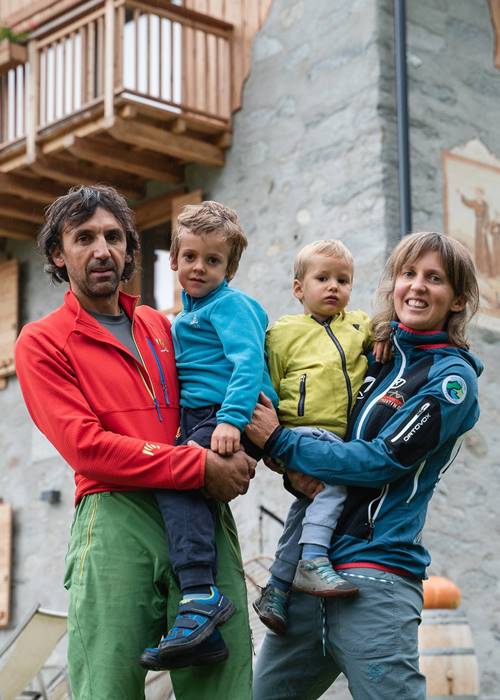 The wish to restore this original historical property , the love for our territory, passion for mountains, nature and sports, together with personal experience in the field of tourism are the dynamics that led to this family project. 
Today, driven by a strong personal attachment, we have decided to give our family house a new lease of life, in the field of hospitality. we are opening to our guests not only the doors of our property, but also to a part of our history and roots.
As we are a Mountain guide, Forest ranger and a Mountain Leader, we have experience and knowledge to help you to discover the local territory and make your holiday unique, authentic and unforgettable experience. 
Pimont Alpine Chalet is the first example of "esercizio rurale" in Val Rendena: it is a new concept of hospitality which developed in Trentino a few years ago, in order to promote the restoration of historical local rural buildings situated in low density mountain areas. 
In this unique setting, guests experience the times of years gone by while staying in a modern habitat, filled with comforts and in respect of the environment.
Due to the intimate and cosy atmosphere you will feel as if you are at home!
A typical alpine farmstead in local stone and wood dating back to the end of the 1800s, then extended in 1905, passed down in the family for four generations, who lived here till circa 1950s.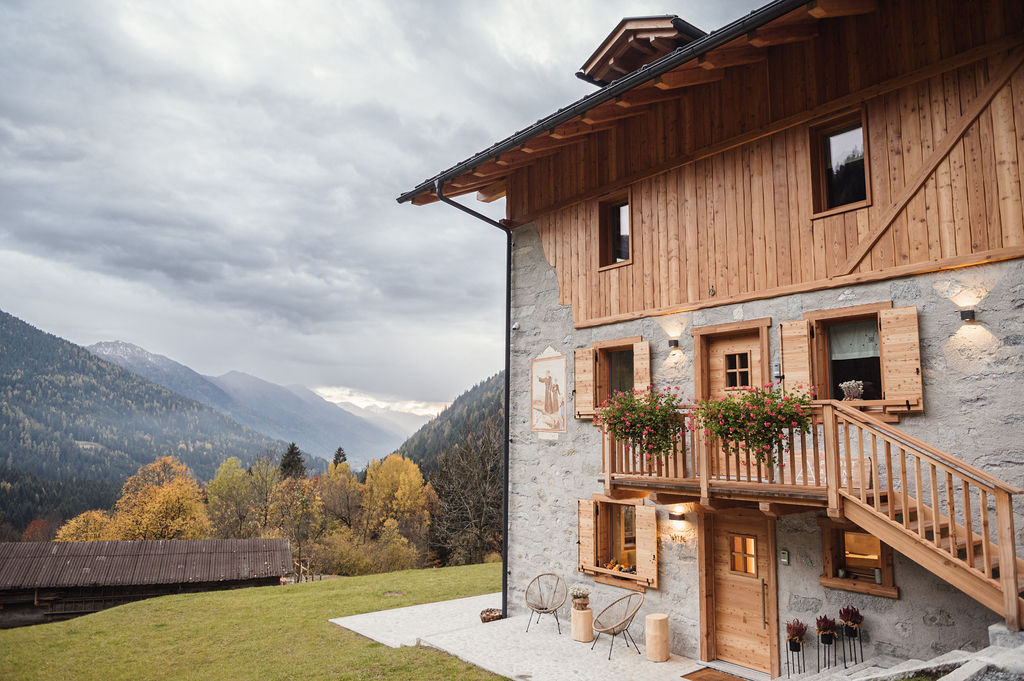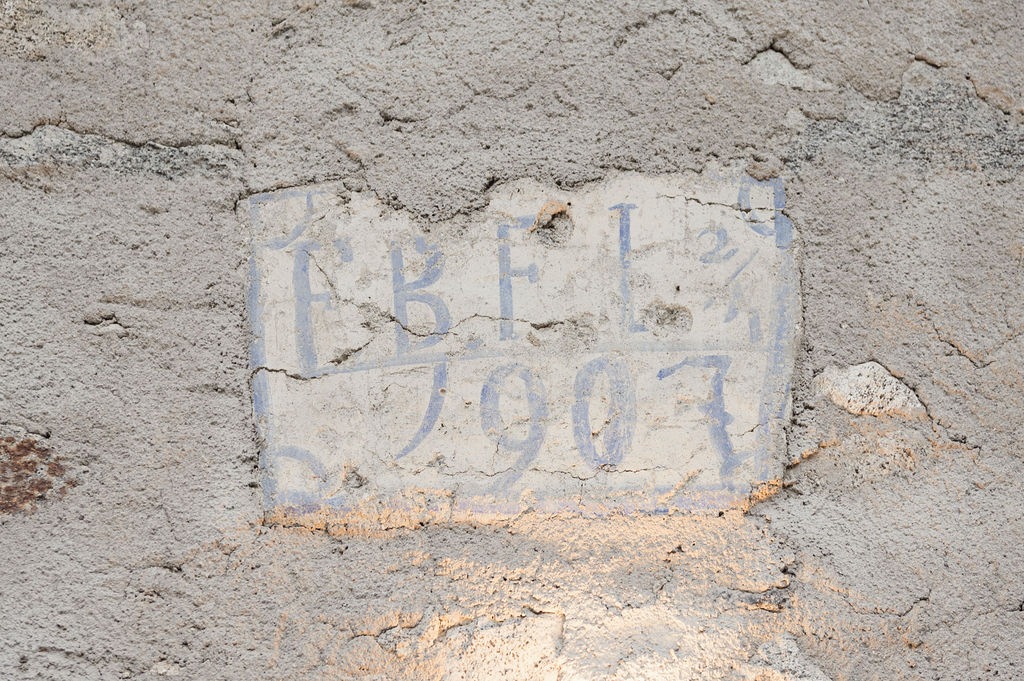 The farmstead was carefully and completely restored maintaining the original external walls. Each stone, which was wisely laid manually over a hundred years ago, is still here today as a witness of ancient times and root to our present day.
A fresco of St. Anthony the Great dating back to 1911 and protected by local heritage laws can be found on the main facade.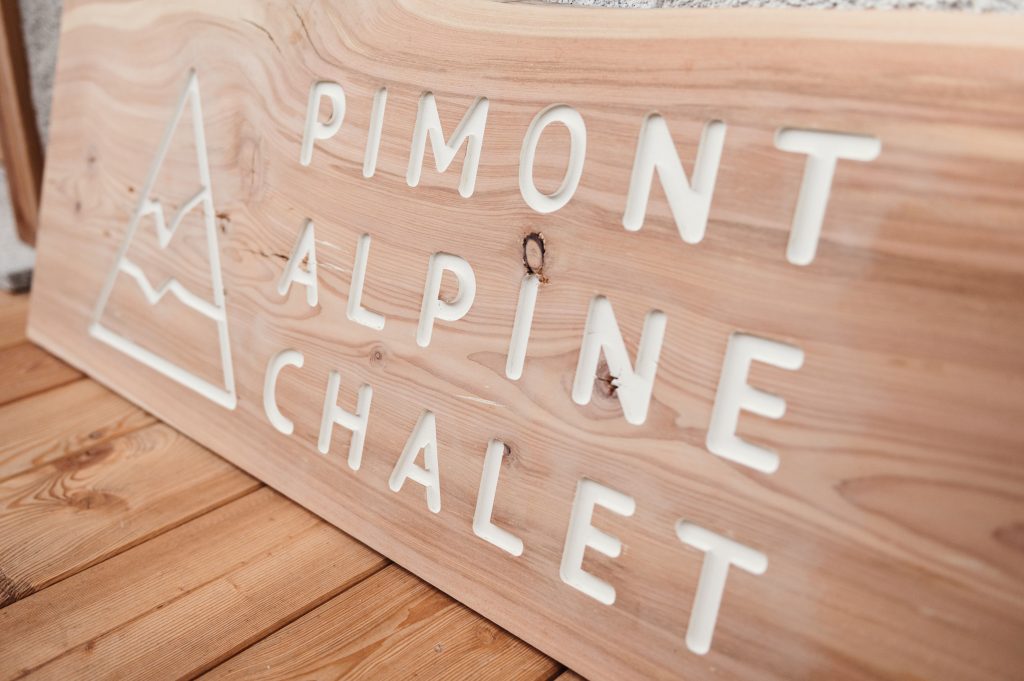 The restoration of the property was able to wisely intertwine old and new styles:  on the one hand attention was paid when rebuilding the external part in order to maintain  traditional standards on the other the choice of introducing a contemporary alpine design for the internal part, inspired by nature by a combination of materials, shapes and colours.
The result as a whole is a fusion of internal and external spaces able to create an harmonious, relaxing and welcoming environment.
The materials used were carefully selected: larch and spruce wood from the forests of Madonna di Campiglio and  local "tonalite" granite stone from Val Genova; for the interior the original wood of the farmstead was recuperated and restored; finally a centenary maple tree from our private forest was skilfully transformed into flooring by local artisans.
Nature is our home and we try to do our best to respect it and preserve it. Here a list of our good "green" practices:
use of natural local materials in construction work (wood, stone, insulation etc…)
energy saving: well insulated building to reduce heat dispersion
biomass heating: wood and pellet
renewable energy sources: photovoltaic panels 
low energy consumption appliances
careful waste management: recycling and reduced use of packaging and non- recyclable materials
use of eco and bio products for cleaning purposes
use of biological home grown or local products (honey, forest fruits, vegetables)